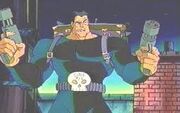 Big Shot is a superhero from the animated series of The Tick. He is a parody of Marvel Comics' Punisher and is voiced by actor Kevin Schon.
Big Shot carries guns, grenades and other weaponry on his back.
He appears in the first episode, "The Tick vs. The Idea Men", as one of many heroes attempting to defeat the Idea Men. While on his way, he fires upon nearby structures (such as chimneys) and reduces them to skull-shaped sculptures resembling the Punisher's skull emblem. This habit leaves him without ammunition when he finally meets up with the Idea Men, and he collapses into a weeping fit while tearfully asking, "Why couldn't you love me, Mom?!" The Tick tells him to seek professional help.
He appears later in the series, having seen an anger management therapist where he learns how to be more sensitive. Far more stable, he is now unable to say the word "guns" without stammering and twitching.
In "The Tick vs. The Tick," Big Shot was at the Comet Club and was the one who introduced Tick to Mighty Agrippa, Roman God of the Aqueduct, Jet Valkyrie, and Fish Boy: Misplaced Prince of Atlantis.
In the comics, a character who strongly resembles Big Shot appears in the Comet Club at the Vigilante Table. Superheroes Handrill Harry and Friendly Fire give meaningful if somewhat confused reasons to explain their heroic lives, wheras the "Big Shot" character states that, "I just like Killing People."